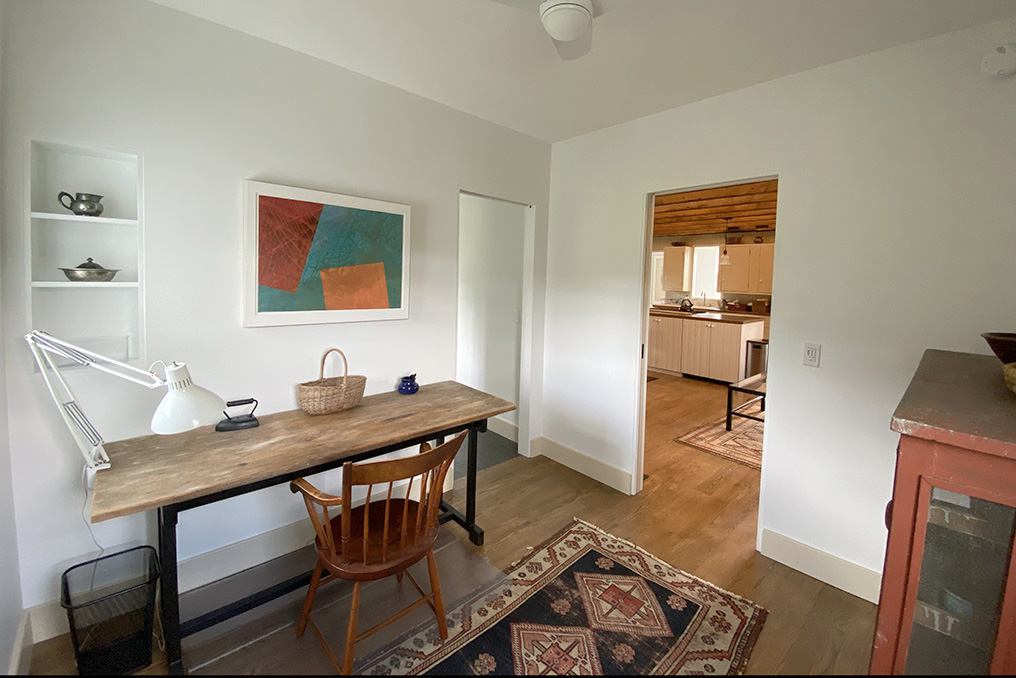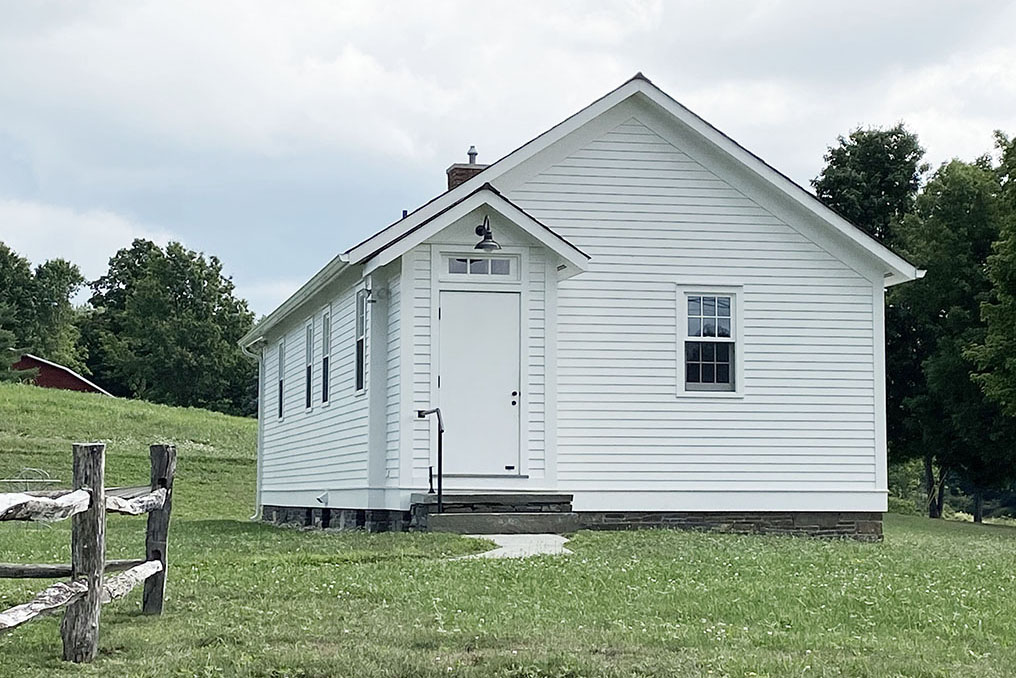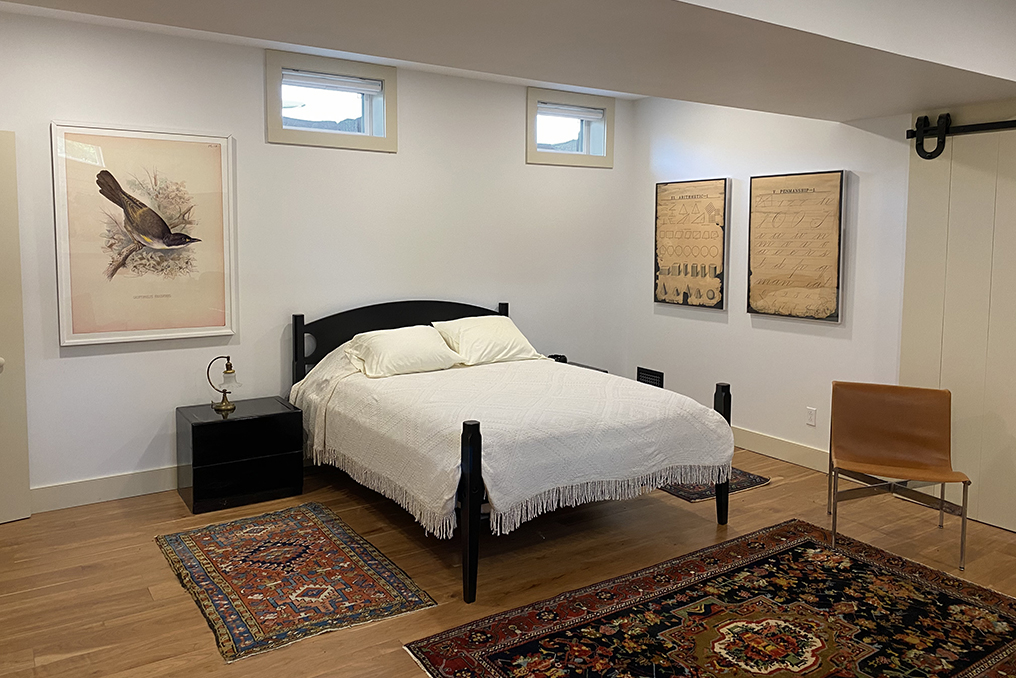 Overview
There is a charming aura of history throughout the house, which was constructed prior to 1815. The most outstanding feature is its historic structure built with hand-hewn wood beams. These beams, which have been painstakingly restored, are featured in the Common Room–a high-ceilinged, open space that includes the Kitchen, Living Area and Dining Area. There is an Office/Den off the Common Room, as well as a full bathroom with shower. Stairways lead to the Lower Level where there's a commodious Bedroom with a queen sized bed, desk, a wall of cabinets and a closet. A sliding door leads to a second full bathroom with a combination tub/shower. The washer and dryer are installed in a small room off the bathroom.
A mix of modern and antique furniture throughout the house, as well as the art works and oriental rugs, are all seamlessly blended together. There are red oak plank floors in the upstairs rooms and cherry floors downstairs.
A small Blue Stone Patio allows for enjoyment of meals outside and taking in the views of the encompassing farmland. The exterior appearance of the School House belies its spacious interior. From the outside, it looks like the one room school house it used to be. On the inside, however, it feels airy, yet cozy and complete with its the mix of contemporary and historic rooms and furnishings.
Kitchen
The fully stocked Kitchen has all the necessary appliances, cooking utensils and dinnerware. Non-perishable staples such as coffee, tea, salt and pepper are provided.

Bathrooms
Two full baths—Main Floor full bath features a shower; Lower Level full bath features a combination shower/tub

Bedroom
Sleeps up to two—spacious Bedroom with a queen sized bed, desk, a wall of cabinets and a closet.
Essential Amenities
Towels; Bed linens; Extra pillows and blankets; Soap; Shampoo and conditioner; Toilet paper; Iron; Hair dyer; Washer and dryer; Heating; Window-unit air conditioning; Fans
Media
Wifi; High speed internet service is provided by Verizon FIOS; Streaming on Netflix, Hulu and some other sites are included in the rental; Widescreen TV installed in the Bedroom
Grounds & Use
The entire house and expansive mowed area surrounding the house are included in the rental. There are fields comprising close to 100 acres behind the house which are leased to a local farm family who plant hay and corn. There are pathways in these fields leading to a magnificent white oak tree and beaver pond. In the winter, guests are encouraged to bring cross country skis and snowshoes.
Guest Interaction
I live just a couple of miles from the School House and am available at all times if guests have any questions. I often make arrangements to greet new guests soon after they arrive to offer further details about the house and area, if they are interested. There is a caretaker who mows the lawn, empties the garbage cans on a weekly basis and clears the driveway of snow when needed. He is also available if any maintenance issues arise.
Suitability & Safety
The house is equipped with fire extinguishers, carbon monoxide detectors, smoke detectors and first aid kits; Pets welcome for an additional charge; No smoking; Not handicapped accessible
Local attractions
Golf; Boating; Biking; Shopping; Skiing; Horseback riding; Wildlife viewing; Fishing; Antiquing; Hiking; Sledding/tubing; Museums—visit the Area Attractions page for more details.
Reservations / Questions
For booking assistance or questions, call Constance Kheel at 917-533-4141 or send a message.

"The School House is a magical place inside and out. Our week there was like living in a Wyeth painting. A kitted out kitchen made the stay nice and homey. Nearby there are plenty of beautiful fields and country roads to wander down." — Ashleigh, August 2021
Book a Reservation / Contact the Owner
For booking assistance or questions, call Constance Kheel at 917-533-4141 or send a message.